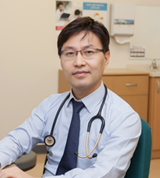 Yeon-Mok Oh, MD
Chairman of the Board for OLDRF
Professor of Medicine,
University of Ulsan College of Medicine
Department of Pulmonary and Critical Care Medicine
Introductory
Remarks
The prevalence of OLD such as asthma and COPD has been increasing worldwide recently and advances in technology and medical knowledge are absolutely necessary in this area.
In order to achieve such advances, our domestic medical community must engage in sustained efforts and provide constant attention to the situation.
The study of OLD has been proceeding actively domestically and abroad, and such efforts have led to tremendous results.

COPD was considered as an incurable disease before. Based upon the results of recent research, however, COPD has been redesignated as a treatable disease.
This change served as the impetus for the initiation of efforts to conquer COPD.
The Obstructive Lung Disease Research Foundation (OLDRF) was established as a part of the efforts to contribute to the public health and help COPD patients.
The OLD Research Foundation will try to provide a central location for the collaboration of COPD research. This foundation will also contribute to the improvement of the public health and maintain a high level COPD collaborative research network.
The foundation will obtain international recognition through its role as a hub for COPD research, spurring further research and creating jobs for researchers.
In order to achieve these goals, we will promote a variety of projects such as providing for the continuous exchange of research results, publication of journals and newsletters which meet the purpose of our academic lectures, and holding conferences, education programs and promotions.
We will also support various projects to encourage active international collaboration.